Back at the Garagiste Festival we chatted with Jacob Lovejoy, the amazing chef at Cass Winery and Cass Catering. It was a beautiful day at Windfall Farms in Paso Robles for this wine event and to end the day outside eating some of the grub prepared by Jacob and his crew, it was amazing.
What Was on the Garagiste Menu?
He made two kinds of tacos; a Zacatecas Skirt Steak Taco, as well as a Butternut Squash Succotash Taco. For those that aren't into tacos (who's NOT into tacos???) there was a terrific Turkey Pesto Sandwich on a homemade roll. The perfect snacks to pair with the wonderful small-production wines that were being poured at the Festival.
In addition to tasting the wines, exploring the beautiful event site, and eating tasty food, we also got to meet a good friend in person for the first time; Shawn Burgert, aka Wandering Wino has been an online friend for quite some time. We had lunch with Shawn and his wife and thoroughly enjoyed talking about everything from wine to Paso Robles to travel and food. It was great to finally meet Shawn in real life and a treat to share some time getting to know each other. Cheers, Shawn!!!
Head out to Cass Winery
If you ever have the opportunity to go out to Cass Winery and taste their awesome wines, we recommend that you go hungry and order some food from the kitchen. They have an amazing patio where you can relax, eat, and drink wine…three of our favorite things to do!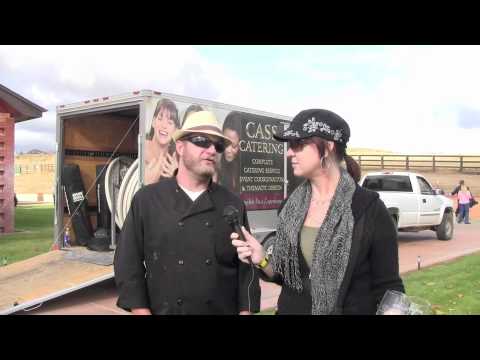 Related articles
Hey, like this post? Why not share it!?
Tweet