We love getting out in to the vineyards and learning more about the farming side of winemaking!  Guillaume Fabre of Clos Solene invited us out to the Russell Family Vineyard, where he has several rows of his own vines, to see one of the very important pieces of the puzzle to creating a fabulous wine.  It's called "green harvesting" and what it means is thinning out the grape clusters so that the vines can focus on the remaining clusters.  This results in a more concentrated wine.  The difference between thinning clusters or leaving them is producing fruit that has more sugars, more flavors, and just overall richer varietal characteristics than if all the clusters are left on the vine.
Guillaume shows us his process, and his passion for great winemaking shows as he explains how and why he trims the fruit and leaves the clusters that will end up in the bottle down the road.  We were in the Petit Verdot rows; a wine that is known for its rich, velvety qualities, and it's hard to imagine that these little green clusters will some day soon be bursting with sweet, deep, red wine juice!
Check out the Clos Solene wines, and if you can arrange a tasting with Guillaume you won't be disappointed!  Based on what we've seen and tasted, we're convinced that he's well on his way to being recognized as one of the great winemakers in the area and beyond.  He started making wine in the Burgundy region of France on his family's property and moved to Paso Robles to pursue his passion.  He's definitely making his mark, and handcrafting some incredible wines!  Oh yeah, and his day job is assistant winemaker at L'Aventure, which is known for their remarkable wines.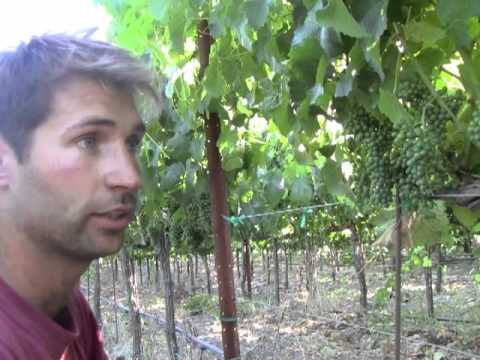 Related articles
(hootnannieblog.com)
Hey, like this post? Why not share it!?
Tweet