On our recent weekend in Los Olivos, CA., we hit Tensley Wines to do a little wine tasting on Easter Sunday before heading to Annie's dad's for Easter. Joey Tensley makes this wine under his own label, along with being the wine maker for Carina Cellars that both share space in this tasting room (we will cover Carina in another post) and has a location in Paso Robles. Anyway, shiny object…back to Tensley Wines, they do about 4,000 cases a year and Joey's wife Lea makes wine too.
We were told that Joey has a very natural winemaking style, it is what it is…he doesn't do much manipulating of the juice. A side note here, we recently saw Joey Tensley at Hospice du Rhone in Paso Robles as he sat on a panel for one of the seminars…have to say, he's a cool cat…seemed to be quite mellow. We hope to interview him one of these days.
We tasted through a Rhone white blend, a Chardonnay, Pinot Noir, and a couple of Syrah's. The wines were strong and consistent…the Rhone blend and Pinot stood out, as well as the Colson Canyon Syrah. Grab a bottle if you see one, let us know what you think.
This is a great stop in Los Olivos, right off the main drag!!
Cheers folks…check out the Tensley website and read more about Joey on the About Us page.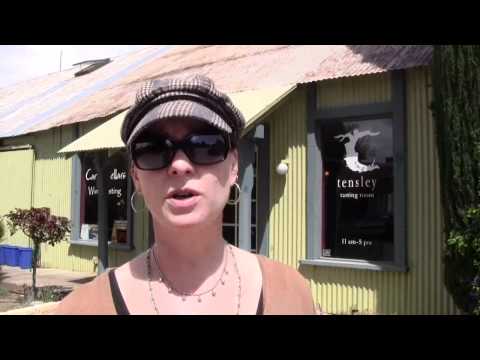 Related articles
Hey, like this post? Why not share it!?
Tweet