Who really has anything fun to do on a Sunday? Okay, that might be a little bit dramatic…but we found this great event at Silver Horse Vineyard and Winery called Sunday Funday!  Really, who can resist something with a name like that?  Especially when you get to lounge around the beautiful grounds while listening to live music, sipping on awesome wines, and snacking on pizzas made to order in their outdoor pizza oven!
Located on the Pleasant Valley Wine Trail, Silver Horse is about 10 minutes out of Paso Robles, and is host to both Tassajara Cellars and First Crush Winemaking.  You'll get to taste wines from all three wineries when at Silver Horse, so that's a super cool advantage of heading out there.
As you perch on the lawn under a big umbrella, sipping on your wine and relaxing to the music, you'll get to look out over the beautiful rolling vineyards for as far as you can see….
….Okay, wait a minute, hold up Annie…Hoot is interrupting here and interjecting some straight up facts:  John Ward was playing guitar and singing…which was awesome!! Steve Kroener (Mr Silver Horse) was making the made to order pizzas and the wines were flowing!! It's a party, on the Lord's day!! God Bless us, EVERY one!! Now sip up!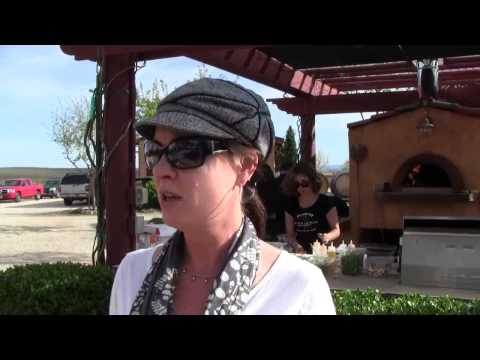 Silver Horse and Tassajara Cellars
Hey, like this post? Why not share it!?
Tweet