We got the opportunity to hang out with Kevin Rankin, new owner of the Paso Wine Centre.  It's a modern, yet comfortable tasting "room" in the downtown area with over 200 local Paso Robles wines open for your tasting pleasure, and even more wines available for purchase.  We'll let the video do the talking…as we got some great info from Kevin, but here's some super cool facts about PWC:
  - 200 wines open in tasting machines for you to meander and taste at your leisure.
  – They've got 2 beautiful, huge oak bars that Kevin crafted from fallen oak trees off the Halter Ranch vineyard.
  – They feature ALL Paso Robles wines, and many that you won't be able to taste anywhere else.
  - There are specials nights – Ladies' Night, Poetry Readings, Art Shows, Live Music, and more to come!
  – They will soon have patio seating for you to lounge and admire the downtown happenings over a glass of local wine.
  – It's a comfortable atmosphere, with small bites for sale and comfy couches.
(Their website is in a transitionary phase, but keep an eye out for www.pasowinecentre.com coming soon!)
You can find them at 1240 Park Street in Paso Robles, or at 805-239-9156.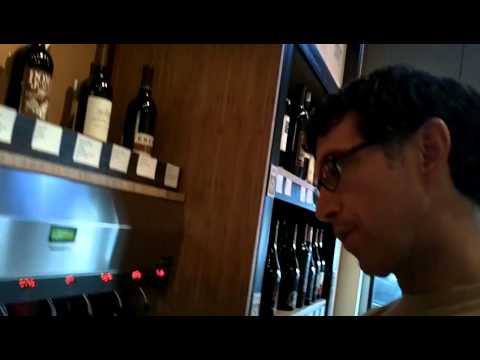 Hey, like this post? Why not share it!?
Tweet