Just a few curves down Adelaida Road sits Villacana Winery.  It's nestled up against a hill…with a quaint little tasting room just off their barrel room.  It's one of those places that you can bring a picnic and enjoy the tranquility under the oaks. 
Alex and Monica Villacana planted their grapes (13 acres) and continue to farm them, producing about 1800 cases of handcrafted wine each year.  Their focus is on lower yields of fruit with high flavor concentration in the estate wines that they put out.  Since the tasting room is right off their winemaking facility and barrel room, you get to see what's going on.  We got a great tour from Monica, she explained how they do things from storing, to bottling, to temperature controlling the rooms.  It's always a treat for us when we get to learn about some of the inner workings of the places we visit and hear the stories of those behind the wines. 
And yes, the wines…we liked them!  There was a nice mineral Viognier, a delightful Rose', and some delicious reds, like a "dirty" Mourvedre that had all the great earthy, grungy qualities that Hoot loves!  They were also pouring a Cabernet Sauvignon and a Syrah, both estate grown, and pretty dang good! 
http://www.villicanawinery.com/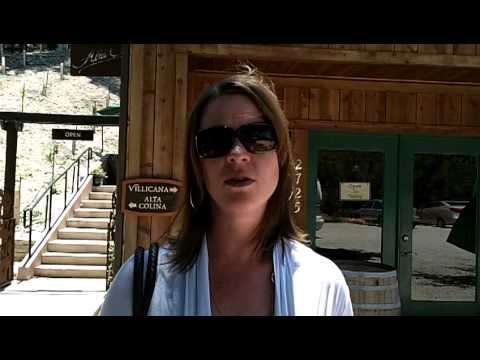 Hey, like this post? Why not share it!?
Tweet