Ever heard of this one?  Well, we've been hearing stories about how great their wines are as well as all the fun events they have out at their property for quite some time now!  http://www.pomarjunction.com/ – Located Southeast of Paso Robles, where El Pomar Road meets South El Pomar is where you'll see the signs.  We finally made it out there…and I'll just tell you now, we'll be back soon!  This is one of those places where it all came together – cool scene, beautiful views, wonderful wines, and great people!  Oh yeah, and did I mention the dogs???  So, this family-run joint does the whole deal, they farm the grapes, market the wines, and man the quaint and well-stocked tasting room!  And…not only that, but the have real train engines on site for you to admire.  They do about 2,000 cases a year, from Viognier to Chardonnay, to some great Cabernet Sauvignons!
Don't forget the "Train Wreck Fridays" that start back up in April where you can throw your own stuff on the BBQ, listen to live music and watch the sunset, all while sipping on their great wines.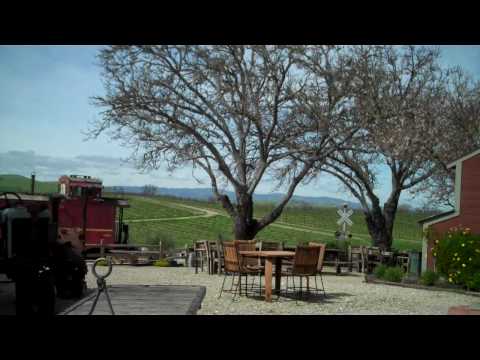 Hey, like this post? Why not share it!?
Tweet